Creating Diagrams or Concept Maps with Google Docs
Getting Started
The first step is to login to your Google Docs account and Create a New document.
Once this document is opened, click on the Insert menu and select 'Drawing' to get started.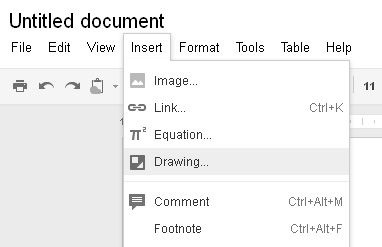 A new window will appear on top of your Google Document with menus for a variety of different tools that you can use to construct your diagram - including menus to create shapes, nodes, lines and arrows.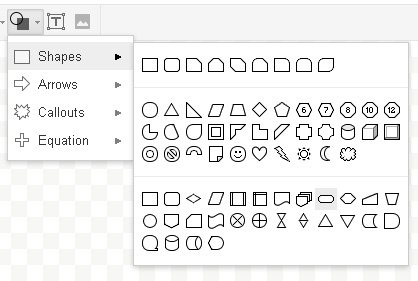 Add a Shape/Node:
Click on the shape icon in the menu bar.
Select the shape (or node) that you would like to use.
Click on the drawing window to display the shape in your document.
Use the 'handles' on the corners or sides to resize each element to meet your needs.
Add a Line or Arrow:
Click on the line or arrow icon in the menu bar.
Click on the drawing window to set the beginning point.
Drag your mouse and unclick to set the end point.
Add or change the end shapes by selecting a line (if you have more than one line on your diagram, click on the select icon in the menu bar and then select the line you want to modify).
Add or change the ends of the line/arrow by selecting one of the last two icons in the menu bar.
Add Text:
Selecting the text 'T' icon from the menu bar.
Clicking on the drawing window approximately where you want your text to appear.
Type your text into the small window and hit enter to set this into the drawing.
Select and move this around with your mouse or arrow keys to meet your needs.
You can also add text to an already existing shape by double clicking on the shape and then typing in the resulting text box.
Saving Your Work - Save & Close
Once your diagram or concept map is complete, you can click the 'Save & Close' button in the upper right hand corner. This will embed your drawing within the Google document that you opened in the beginning. You can then add text around this drawing as if it were an image that you uploaded to the document.
You can click on the drawing to find the 'Edit' button and update your drawing at any time.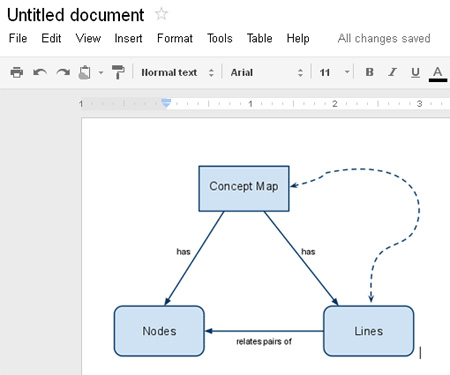 Saving Your Work - Saving a jpeg Image
You may also want to add an image of your drawing to something else you are working on in another application, for instance, adding your diagram to a post (you will want to resize this image so that the entire thing fits nicely into your post - so read all the way through these directions!). In this case, before you 'Save & Close' select under the 'Actions' menu > 'Download as' > JPEG.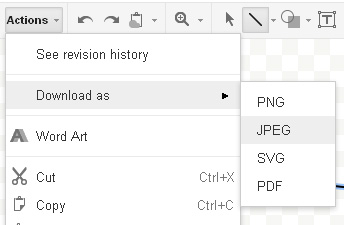 This option will allow you to save a .jpeg image of your drawing to your downloads folder on your computer.